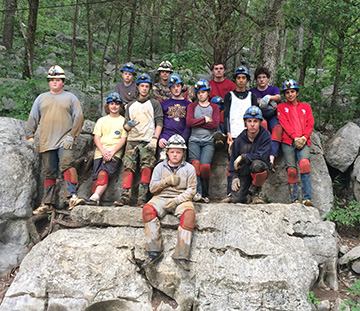 (Ages 14-16, 10-12 campers per trip; separate trips for guys and girls)
Adventure Trips for Boys & Girls ages 14-16 is an exciting, week-long expedition to the Great Smoky Mountains. Campers pitch their tents and explore the beautiful outdoors while learning more about God's creation. The highlights of these trips include Whitewater Rafting, both sections III and IV on the Chattooga River, rafting the Olympic-hosting Ocoee River, conquering a high-soaring canopy challenge, and exploring a wild cave with an overnight adventure at Cumberland Caverns. Spending a week unplugged and working together to overcome challenges, these campers create lasting bonds with one another as well as learn new survival and camping skills! *Due to the nature of these trips, capacity is limited.
2021 Trip Dates:  $665/trip
Boys Trip 1:  June 6-11*
Girls Trip 1:  June 13-18*
Boys Trip 2:  June 20-25*
Girls Trip 2:  June 27-July 2*
*To keep our campers as healthy as possible, each trip is scheduled to end on Friday afternoon to allow for additional cleaning and sanitization.
Trip Waivers available HERE.