Being a Chief at CRS is a unique privilege and huge responsibility. Our aim is to employ enthusiastic young men and women who are committed to growing in their relationship with Christ and proclaiming and living out the Gospel to serve hundreds of campers and their families each summer. We strive to create a safe environment, develop relationships with our campers and share Christ in every aspect of daily life. Our summer staff is at the heart of our ministry and has a great potential to impact the campers. This is why we hire only the best staff possible each summer.
What does a Chief do?
Regardless of positions, all CRS staff are required to be at least 16 years of age, to have a commitment to follow Jesus Christ wholeheartedly, to place the needs and safety of campers first and foremost at all times, and to be flexible and expect to be called on to do things above and beyond what is listed in his or her job description. Check the details for specific job requirements and ages.
Staff Expectations
CRS staff members are role models to our campers, and because of this, we have a set of guidelines and rules that staff must follow. We do this because what we as staff do in moderation, the campers will do in excess. We want to be wholesome, godly leaders for these campers.
Safety
At CRS, we take the campers' safety as top priority. As a result, all staff will abide by camp rules regarding curfew, automobiles and prohibition of alcohol, tobacco products or any dangerous drugs. Staff are trained according to strict guidelines by the American Camping Association as well as Ministry Safe Abuse Awareness program.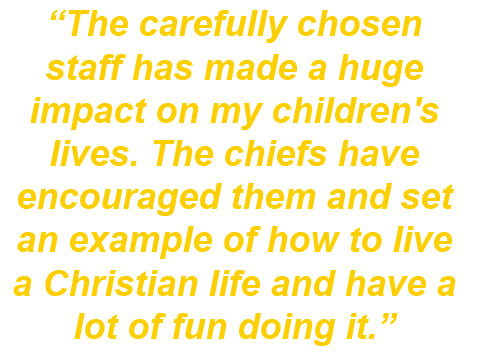 Appearance
To avoid conflict between parents and CRS staff, we have decided to take the conservative approach to dress, behavior and appearance. All staff is expected to adhere to our policies with a cheerful heart.
Process
Prospective staff members submit an application and Background Check Authorization Form
Request for references: Use the Reference Form for Staff, which may be submitted by fax, mail or email to the camp office
Approved staff will be contacted to set up an interview after all references have been received
Applicants will receive notification once a decision is made
For applications completed by Dec. 1, interviews will be scheduled and will be notified by Feb. 15
For applications completed by Feb. 1, interviews will be scheduled and will be notified by March 15
For applications received after Feb. 1, interviews will be offered depending on job availability
Selected applicants will receive a commitment specifying position and salary
Staff must attend training prior to camp
---
ADDITIONAL STAFF FORMS:
Background Check Authorization