We are excited to announce that our speaker for Family Camp 2018 is none other than French Camp Academy's Dean of Students, Bruce Hosket. Come and learn as Bruce shares truth from Scripture through wisdom and experience.
After graduating from French Camp Academy, Bruce received a Bachelor's Degree from Columbia International University in 1985 and a Master's in Education from MS State University in 1992. Bruce has served for over 30 years on the FCA staff as a teacher of Old Testament and Christian Family Living, as a football coach, as a work director, and as an administrator. Currently Bruce is the VP of Student Life; he serves also as an elder in the FCARP church. The Lord uses Bruce's gifts of teaching, discernment, management, coaching, and leadership daily as he ministers to the staff and students.
Kim is a French Camp native. She grew up with her parents having leadership roles at FCA and Camp of the Rising Son. She earned her Bachelor's Degree from MS State University in Public Relations/Communication in 1990. The Lord brought Bruce and Kim together that year after Bruce had already been on FCA staff for 6 years. Kim's love of people, aquatics, decorating, Bible teaching, serving, and laughter help define her daily ministry. She currently assists in the school library, teaches Yearbook, leads Bible studies for young ladies, and teaches life guarding classes.
Bruce and Kim Hosket have been married for 28 years. They have four children, Kayton, Ben, Jesse, and Anna Katherine, and one grandson Sawyer. Together they have grown to understand the Lord's provision as they surrender daily to their living God who is at work in all things. Their extended family includes many of the young men who lived with them during their ten years as dorm parents and others they have brought under their wings. Their home exudes hospitality to the many children with whom the Lord has given them special relationships.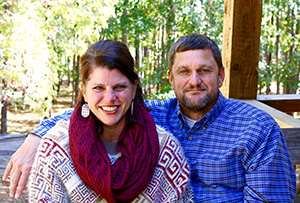 Isaiah 58:11-12 has become a declaration of the Lord's provision for Bruce and Kim.   "The LORD will guide you always; He will satisfy your needs in a sun-scorched land and will strengthen your frame. You will be like a well-watered garden, like a spring whose waters never fail. Your people will rebuild the ancient ruins and will raise up the age-old foundations; you will be called Repairer of Broken Walls, Restorer of Streets with Dwellings."